Whether you're watching in your own home or (better yet) sponsoring a showing with a discussion, labor films are a great way to reconnect with the passion and purpose of the labor movement. We polled the guest editors, Democratic Left board, DSA Fund board, and members of the National Political Committee and staff to pick some favorites. You won't see Norma Rae here, not because we don't like it, but because we want to bring you other classics. Feel free to write your own 100-word review of your favorite in the comment section.  Eds.
Blue Collar/thisdistractedglobe
Blue Collar stars Richard Pryor, Yaphet Kotto, and Harvey Keitel as assembly plant production workers who hate their jobs, loathe their bosses, and think their union does nothing for them. Stuck in place with families and debt, they devise a scheme to rob the union safe. Instead of money they find evidence of financial links to the mob that can be used for extortion. To neutralize them, the union offers Zeke (Pryor) the committeeman's job, the FBI turns Jerry (Keitel) while the company engineers the on-site murder of Smokey (Kotto), who can't be bought. What the plot lacks in credibility, it makes up for in atmosphere. The dialog happens against the thrum of machinery; a pounding score by Jack Nitzsche adds to the tension. If the film is hard on the union, it's exactly right on how capitalism degrades work. Michael Hirsch
Bread and Roses: This 2000 film is based on the "Justice for Janitors" campaign in 1999 Los Angeles. The title evokes the seminal 1912 textile mill strikes of Lawrence, Massachusetts, but focuses on a thoroughly modern working class--undocumented immigrants--with a Mexican protagonista. Gender and race are explored imperfectly, such as when the white, male union organizer outlines in a clear (and thus potentially condescending) way the step-by-step process of labor organizing, but the film is a powerful celebration of collective action and the transformative power of taking such action. Maria Svart
I Compagni/mubi
I Compagni (The Organizer) stars a bearded Marcello Mastroianni as a penniless teacher who hitches a freight train to Turin to organize textile workers. The film ably combines tragedy, comedy, rousing worker anthems, and vivid impressions of working-class life. Although I did not hitch rides on freight trains or suffer hunger and beatings during my career as a union organizer, I identified with the "Professor" and the dilemmas he faced. At the end of the film, one of the defeated strikers becomes a political/labor union organizer and continues the professor's work.  La Lotta Continua! Paul Garver
The Internationale is an award-winning documentary that traces the influence of this anthem of the left on radical movements since it was written in 1871 by Eugene Pottier, at the fall of the Paris Commune.  Archival footage and testimonies from people from around the world who are active in socialist or community movements give the viewer an idea of the breadth of the song, which has been translated into 40 languages. The film ends with Billy Bragg singing his updated version. This is a short (30 min.) useful film that is often available via inter-library loans. Bill Barclay
I'm All Right Jack is the "labor film" that stays with me, which may be an odd choice for a card carrying democratic socialist. Peter Sellers plays a "communist" trade union official in this comedy set in a missile factory that's upended by an upper class twit persuaded by efficiency experts that production can be speeded up.  There are pre-feminist stereotypes, some cartoonish characters, and the film can be annoyingly liberal above-it-all.  But for fun, check it out. Everything I really learned about labor as a kid came from Fritz Lang's Metropolis, and the film version of Broadway's How to Succeed in Business Without Really Trying--odd bookends, but they reflect my dueling sensibilities. Jeff Gold
Matewan: John Sayles's retelling of the 1920 Matewan, West Virginia, massacre is a great movie. Period. It has a gripping plot, memorable dialogue, strong acting, and vivid atmosphere.  Police chief Sid Hatfield, company spy C.E. Lively, and African American miner "Few Clothes"  Johnson were historical.  Ex-IWW organizer Joe Kenehan and boy preacher Danny Radnor are fictional. Sayles shows multiple conflicts: between miners and company, between miners and the blacks and Italians imported as strikebreakers,between Joe and Lively, and between the miners' vendetta culture and Joe's insistence that ony nonviolent solidarity can prevail against the armed might of the bosses. Before the final shootout, miner Sephus Purcell sums up the tragedy, telling Joe, "You're still after that one big union, [but]we can't see past this holler." Mark Schaeffer 
Mother Jones/zinnedproject
Mother Jones, America's Most Dangerous Woman, co-produced by DSA member and labor historian Rosemary Feurer, documents the work of this legendary organizer. A Socialist Party member opposed to women's suffrage, Mary Jones traveled the Appalachians and West for the United Mine Workers around the turn of the last century, rallying mining communities to strike. At 24 minutes, it's a great discussion starter. Available for $10 plus shipping from Feurer's website: http://motherjonesmuseum.org/DVD_page.htm. Peg Strobel
"1900": Bernardo Bertolucci's 1976 film "1900" (or Novocento ) depicts the struggle of landless agrarian laborers against Italian fascism. The film traces the lives of a landed aristocrat and an agrarian laborer born on the same day in 1900. Best friends during childhood, the two grow up to play out their social roles. The strong-willed peasant child, Olmo (Gerard Depardieu), becomes the spirited socialist leader of the landless laborers, while the weak-willed aristocrat, Alfredo (Robert DiNiro), turns over the management of his strife-ridden latifundia to a brutal, sadistic manager, the fascist Attila (Donald Sutherland).  Despite the Popular Front framing of evil fascists versus noble socialists and Communists, the cinematography of the Emilian countryside alone makes this film worth the time. At almost five and a half hours, invite your friends for a sleepover. If you're not stirred by the peasant rebels singing "Bandera Rosa" (the Red Flag) then you don't know which side you're on. Joseph M. Schwartz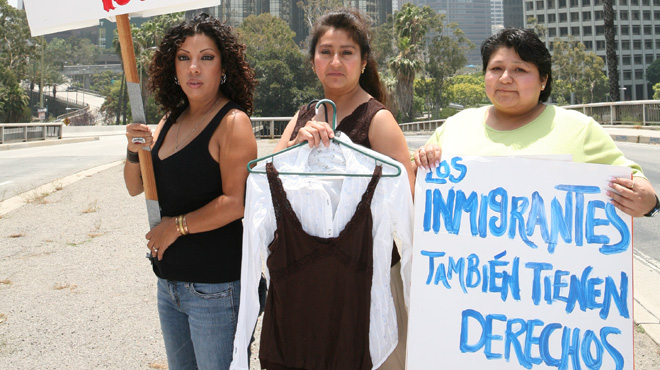 Made In LA/itvs
Made in L.A. is an Emmy award-winning documentary that follows the story of three Latina immigrants working in Los Angeles garment sweatshops as they embark on a three-year odyssey, with the help of the Garment Worker Center, to win basic labor protections from trendy clothing retailer Forever 21. Through discouragement and danger, as well as unity and joy, the film reveals the impact of the struggle on each woman's life as they are gradually empowered--as workers, as women, as immigrants-- by the experience. Maria Svart
Northern Lights (1978) is a compelling, award-winning docudrama that reenacts the organizing that led to the founding of the populist Nonpartisan League in North Dakota in 1915, led by former Socialist Party organizer A. C. Townley. It was filmed on location, starring Joe Spano, with many local people as extras. If you have ever bemoaned the hassle of a crashed computer or cancelled airline flight interrupting your organizing, watch this film for an inspiring corrective. These organizers travelled across their state to remote farms in extreme winter weather and managed to win control of their state government! North Dakota's state bank and their law against corporate ownership of farmland are just two of the lasting legacies of this temporary but significant victory. Barbara Joye 
Office Space (1999): A cult comedy classic, Office Space follows the trials of Peter Gibbons (Ron Livingston), a disgruntled employee at "Initech" whose outlook on his job is transformed after a therapist dies seconds before awakening Peter from a hypnosis session. I recommend this film not only because it is a favorite of mine, but because many white-collar workers still do not consider themselves "laborers," and use the label exclusively in reference to blue-collar workers. Watch this film to reinforce the idea that labor can be exploited at every industry and level.  Betsy Avila
The Uprising of '34 documents a strike of Southern textile workers that saw half a million people walk off their jobs in the largest single-industry strike in the history of the United States. Unfortunately, after violent repression and blacklists, the strike was lost and most of the traumatized survivors hid its story from their descendents for decades. Producers George Stoney, Judith Helfand and Susanne Rostock spent six years interviewing survivors and their relatives in Georgia, Alabama, Tennessee, and the Carolinas and collecting archival footage to bring to light this hidden history. Stoney says the film "is meant to challenge the myths that Southern workers can't be organized, that they will work for nothing, and that they hate unions."  Barbara Joye
---
Michael Hirsch
followed this page
2014-11-24 20:16:56 -0500
Mark A. Schaeffer
commented
2014-09-07 19:58:24 -0400 · Flag
Matewan had an extra impact on me because Chris Cooper, as Joe the organizer, from some angles resembled Mike Harrington who was then battling cancer. Other memorable performances were Kevin Tighe as gun thug Hickey, dripping with contempt for the miners and their families, and James Earl Jones as Few Clothes, called by Sayles a "John Henry of the mines." The miners won the battle of Matewan, but lost the war, as Joe in the film and Mother Jones herself warned before the catastrophic battle of Blair Mountain a year later. It took the
UMW
a over decade to recover, after John L. Lewis hired the socialist dissidents Powers Hapgood and John Brophy as organizers. Sayles in his book "Thinking in Pictures" on making Matewan explained his effort to depict not just the leading characters but an entire community.
Dustin Guastella
followed this page
2014-09-02 06:36:35 -0400